Call now for a landscaping consultation! 301-252-3917
Maryland Retaining Walls Designs and Building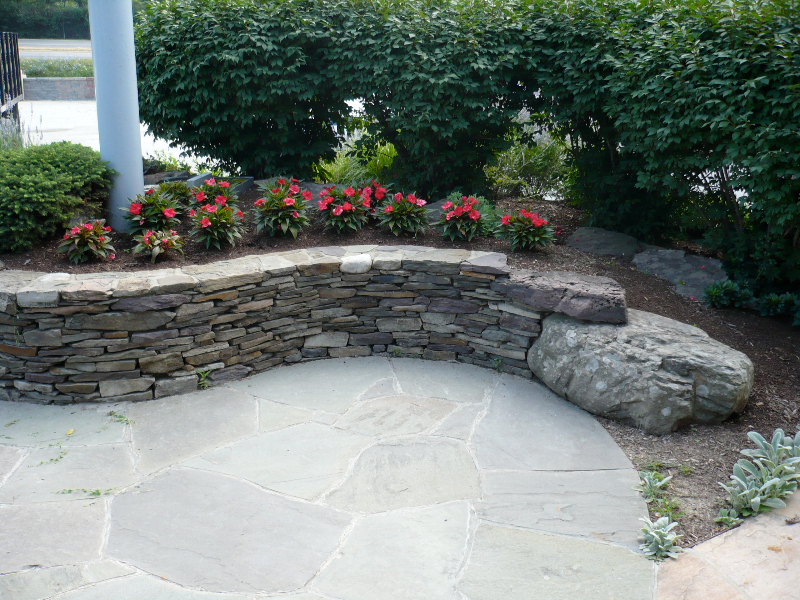 Do you want to increase space in your backyard?  Do you want to replace an old worn out failing wall?  Or would you just like a nice place to sit down?
At
Divine Landscaping, Inc.
 we can create a new wall to fit your every need.  Retaining walls are what they say.  To retain something.  We can incorporate wall to retain almost anything.  A garden or hill, a driveway or porch.  Retaining walls can be built out of several materials.  Pressure treated lumber walls are popular for the natural feel and cost factor.  They are great for practical applications and linear needs.  Concrete segmental walls can be built in any shape or height.  They come in many different colors and textures.  They are a great alternative to wood because they won't rot over time.  Segmental walls are also cost effective and easier to install.
If you love the look of old world construction, stone is your best choice.  Stone structures have been around since the pyramids are built to last.  Natural stone can be used in any application and contrasts beautifully with whatever your current setting.  Stone walls can either be built using the dry-stack method that doesn't require mortar or can be re-enforced with cinderblock, steel, rebar and footers.
A sitting wall is a great way to increase space without adding additional patio area.  Let's build a wall around a table or sitting area to increase the number of guests we can accommodate.  The rich texture of natural stone brings dimension and life to your patio.  Most walls are finished with flagstone cap or natural reviel.  We can also install lighting to help set the mood.