Call now for a landscaping consultation! 301-252-3917
Design Ideas With Divine Landscaping, Inc.
Custom Designs
---
Site Analysis
When we first meet, your Divine Landscaping representative will perform a site analysis, measure the property and take photos. A base map, showing existing property conditions, is drafted. This base map will show the property's circulation and weather patterns, orientation of the house to the site and identify the placement of functional areas within the site and their relationship to one another. Problem areas are identified, screening and views are shown. Usually during this second meeting, changes or approval is made, but we will make as many changes as necessary until you are satisfied with the concept.
---
Concept Drawing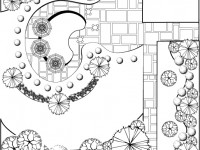 The second stage will be a conceptual layout of the property, further refining circulation with specific pathways, patios or decking drawn in more detail. The shapes of planting areas and hardscape elements are defined to reflect the various activities and the spatial relationships within the site. Emphasis is on developing form and pattern. We will also discuss implementation of the installation, phasing and maintenance. One black-line 36″ x 24″ and one 8.5″ X 11″ print are given to the client.
Implementation
---
Usually after the second meeting, changes are made to the conceptual drawing, and a final plan is drafted. This plan identifies the specifics of all the planting and hardscape elements. We also provide a planting list and specifications, and if requested, we will provide a perspective drawing, elevation sketches or computer aided image, visualizing the plan view, at additional charges.